I've been working on video games since 2012 as a sound designer and composer.
I have some cool friends who also make games. We love to jam!
I started developing my own experiments in 2016.
In 2017, I co-founded the indie game studio Concrete Games with two friends.
In 2020, I decided to do more solo work.
My latest project is a series of games focused on synesthesia, playable pieces of music as games, called Playhear.​
Playhear: Square Paper City
An electronic music album playable as a game
Welcome to a new way to listen to music with this first opus of Playhear, a series of musical pieces made into games!
Settled in a weird and minimalistic place, Square Paper City is a Musical Walking Simulator with mazes, some puzzles and a bouncy and dynamic world.
Release date: to be announced
Playhear: Player One
Music can be more than linear tracks!
Here's the first opus of the Playhear Players! It is called One. And it is an interactive music player, with controls over moods, effects and other fancy ways to play my custom semi procedural composition. This first opus celebrates the beginning of a series of innovative and unprecedented musical experiences.

Release date: October 2021
Petit Piment
A game developed to exorcise an all-too-powerful feeling of spleen.
Petit Piment is small. His father, fire, provides him with the means to feed on heat so that Petit Piment can cook, moult and grow. As he grows, Petit Piment grows trees.
Developped during the BBQ jam, the irst jam of the House of Video Games in Rennes.
Bienvenue
A birth announcement
As a futur father I wondered how I could announce to family, friends and world, that my child was born. I decided to make a custom small video game as a birth announcement.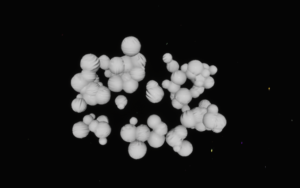 Matter
The expressive surreal parkour game
This short first-person free-running game will leave you disoriented. It will get inside you with its otherworldly atmosphere and vibrant, dynamic soundtrack.
Matter is a parkour game set in an unknown dimension. Its gravity will truly test your senses. Brace yourself for a journey that is both mentally and physically intense.
Release date: December 2018

Hyperun
The world fastest infinite motorbike runner
Drive as fast as possible on infinite procedural roads. You'll need the best reflexes to beat the 90° turns and the spectacular road patterns. Be a superstar and take risks by making awesome acrobatic tricks. Surpass yourself and challenge your friends on the online dedicated speed and score leaderboards.
Hyperun is a mix of driving skills, endurance, style and gravity defying roads.
Janga
The 360° exhilarating gardening game in space!
The 360° exhilarating gardening game in space: Explore a colorful open world that defies the laws of gravity, create mountains and rainforests with surprising properties, travel with your ice bridges, crossbreed dancing plants to discover hundreds of absurd combinations like a mad biologist. The cosmos is your playground!

Release date: Demo available since May 2020 / Shelved

Public Enemy
Stealth and rebellion in an absurd totalitarian government.
Fight for freedom of people in this dictature simulation!
Use different skills to make the revolt gauge grow!
Don't get caught by submitting yourself to guards' abuse of authority!

Release date: August 2019

Grotoro
Multiplayer couch space globular fatty nervous farting bull brawl in space.
Reflex, timing, precision, courage, endurance, tactics, feints, coalitions, treachery, charisma, tenacity, manipulation, power… Here are all the qualities you must have to be the greasiest Grotoro!
Stunfest Mega Glitch
Stunfest game
A trip in a monitor made for the Stunfest festival.

Release date: February 2019
MacGuffin
The Atomic Robbery
Good. Your plane tickets are ready. I already made a bank transfer of 1 000 000 on your account. We'll get in touch when you're inside the nuclear plant. You must understand that not getting the MacGuffin is not an option.
Release date: February 2016
Feat Éric Giraudet de Boudemange
Yvain!
An artwork to be played
Yvain! is a video game – an artwork to be played – by artist Éric Giraudet de Boudemange, developed in collaboration with game designer Tomavatars. The project follows his residency with La Criée centre for contemporary art.
This first experimental adventure game is inspired by a passage from the novel Yvain, the Knight to the Lion by Chrétien de Troyes, written in the twelfth century. Heartbroken, Yvain the knight flees civilization. He sinks into the forest, leaving his clothes, losing the use of speech and reason. In this contemporary interpretation, we guide the main character, at the paste of his lament, through an absurd and offbeat medieval universe, at the crossroads of courtly love and Game of Thrones.
Le Graal en Doom-like
Experimental adventure game
The Grail in Doom-like is the second part of the video game Yvain!, imagined by the artist Éric Giraudet de Boudemange and the video game creator Tomavatars, producted by La Criée center for contemporary art. It was made during an art residency at the middle school of La Binquenais with two classes of 7th and 9th grade in december 2018 and february 2019.  
Immaterial Studio (collab)
Freakout: Calamity TV Show
Juicy top down intense old school shooter!
Freakout: Calamity TV Show is a juicy Top-Down-Dual-Stick-Shooter inspired by old school arcade games and more recent Die & Retry shooters.
In a disturbed dystopia filled with mutants and killing machines, you're the star of a reality show which might get a bit too real. Fight your way through the deadly enemy waves, join the revolution, and try to take down the evil Fizzy Corp.
A reason to cry
A civilized guide to sadness
In a distopic future, self-improvement agencies are the most powerful international organizations. They are here to teach you how to express your emotions correctly.
A Reason to Cry is a training program dedicated to sadness.
Gameplay: a mix between Trombone Champ and Guitar Hero.
Game created as part of the Game Jam de Québec from September 22th to 24th, 2023 at La Console.
Release date: September 2023
/iframe>
7 is Dead
SF Detective card deck game
Aboard the ship « Analog_404 », a sample of survivors is fleeing a major climate-ideological cataclysm.
We've received an alert from the ship that could compromise the mission.
The survival of the species is at stake.
Detective Holos, it's critical to solve this case.
Garden Garden
A zen and oniric gardening game.
In a very small place, gather seeds and make the most pretty garden.
Bang Gang
Let's fight with gangs in BANG GANG!
But… "the more members you have in your gang, worse is their accuracy" and it's harder to manage them because of the friendly fire!
2 to 4 players splitscreen
Pads needed!
Made by Concrete Games and friends
Release date: January 2018
Build the road Jack
Racing live builder
Dont run out of fuel and take care of your tracks placement : you cant ride a tracks you previously ride, or ride outside boundaries !
Build the longest road…
&
…Race it as fast as possible!
Nuit Blanche
A surreal experience
You're in a strange place, you don't know what to do, but there's a Red Door in front of you…
Release date: September 2016
What the deuce
What the deuce did he want to go in that galley for? He had no idea of what would happen.
It is a game about Post apocalyptic creation.
It takes the shape of an FPS.
It is funny (I believe).
Made for the Epic Game Jam 2016.
SickSports
Sport Action Multiplayer
In the game, you're inside a big multisport room where many props can be thrown around the place with a baseball bat. The objective is to hit other players with the objects that you have thrown and get the highest score, while you try to avoid objects thrown by other players!
Release date: December 2016